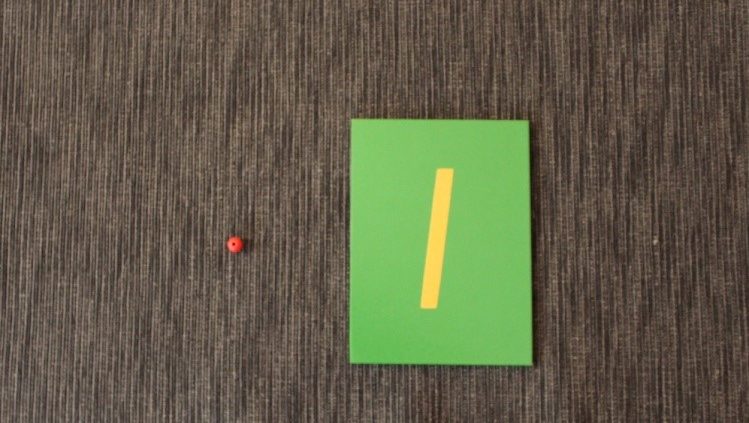 FMS is a blended Montessori program.  Montessori materials for teaching Math, Language, Reading, Science and Cultural lessons are the foundation for lesson giving at the primary level and are used in varying degrees in the upper grades.  We follow the tenet of presenting the concrete material first, such as using a single red bead to represent "one" and the green bead bar to represent "two."  Then, as the student becomes more familiar with the process of handling the concrete materials and their knowledge solidifies, they are introduced to more abstract representations, such as writing the number 1 and then eventually learning the functions of addition, subtraction, multiplication, and division.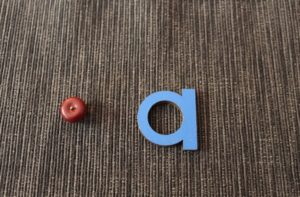 Sounds are presented first when teaching language to 3 and 4 year olds so that when letter recognition is developed, a young student begins to see the letters put in a pattern to form words, which eventually leads to pre-k students reading simple books.
The Montessori method is one that is "hands on" and process driven.  This methodology is used throughout each of the ascending grades at FMS.  Much of the teaching is done in small groups, where again, specific needs and abilities of the students are addressed.   Once a student is in lower elementary (first through third grade), Montessori materials are still used in the classroom, but traditional learning materials are used to solidify a students knowledge, preparing them to function effectively in any school setting.  For example, "Words Their Way" is a spelling and comprehension tool used to develop writing skills, as well. This starts in first grade and carries through sixth grade. Middle school students focus on etymology, while learning the deeper connections of how words were created and applying their meaning in their writing.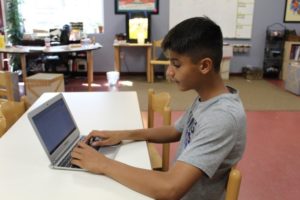 Starting in third grade, each student is given the Stanford 10 Achievement Test rating the student's reading, comprehension, spelling, vocabulary, math and listening skills.  A record of these scores is posted on our website under the ABOUT category then under TEST SCORES.  For over ten years, FMS Montessori students have consistently demonstrated above grade level  mastery as a mean population. These results are measurable indicators that FMS students are standing on solid academic ground and can compete effectively when measured against traditional school standards. Chrome notebooks are introduced to upper elementary (fourth through sixth) students as a tool for researching and writing papers.  Middle school students continue to use Chrome notebooks for research and Google classroom.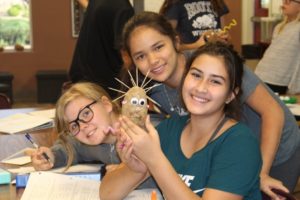 All of the "non-Montessori" tools are used to solidify and refine the education process at FMS.  We are committed to helping each student develop to the best of their abilities, both on an academic and social/emotional basis.  Learning "how to be with other people" is just as vital as learning the sounds of the alphabet, or composing a well written paper.  FMS is an institution that feels warm and inviting. Children, parents, teachers, and administrators take an active role in our learning community, contributing to the collective experience we share during the school year.  FMS is a community of learners, inspired by the Montessori philosophy to do our very best every day.
https://foothillsmontessori.com/wp-content/uploads/2018/05/1.jpg
587
749
Lindsey Hart
https://foothillsmontessori.com/wp-content/uploads/2016/07/foothills-logo-300x87.png
Lindsey Hart
2018-05-02 13:17:24
2018-07-12 08:46:05
A Blended Montessori Approach
Cooking projects in the FMS kitchen happen on a regular basis, filling the office with delicious scents and actively involving students in the preparation of food.  Sometimes, the food that is being made is to celebrate birthdays for the month.  Often there is an opportunity for our students to experience an academic lesson represented in a food item.  Last week, P2 students entered the kitchen and found that the entire solar system was laid out on the table in front of them.
The task was to paint a plate with yogurt signifying the atmosphere and the boundless space around us.  The sun was represented by an orange slice, with Earth showing up as a slice of kiwi.  The asteroid belt was laid out by using raisins.  Each piece of fruit was proportional in size, representing the scale of the planets in space. This visual and tactile lesson was further enhanced when the students were able to eat the fruit and use their sense of taste.  Space was explored, a lesson imparted, and a memory made when the fruit was eaten…a true Montessori experience.
https://foothillsmontessori.com/wp-content/uploads/2018/02/planet1.jpg
1667
2500
Lindsey Hart
https://foothillsmontessori.com/wp-content/uploads/2016/07/foothills-logo-300x87.png
Lindsey Hart
2018-02-05 14:24:52
2018-07-12 08:46:06
Planet Lesson

The FMS teaching staff began the new year with a training in mindfulness.  It was given by Tessa Stephenson, MS MFT, and Regional Director for the Endeavor network.  Mindfulness is an old idea getting new traction in our fast paced world.   As per Ms. Stephenson, mindfulness is a perspective that cultivates "an attitude of openness and curiosity no matter the circumstances, including situations that are unwanted or unpleasant." Mindfulness offers tools for regulating emotions in order for a person to stay present and focused in the moment they are in, instead of reacting automatically to their own emotional states.
Simply taking a deep breath can calm the mind long enough to integrate the right and left sides of the brain so a person can think clearer about the situation at hand. Many studies have shown that teaching young children mindfulness techniques gives them life skills for coping with frustrations and disappointments.  The studies have also shown that as young children are taught mindfulness techniques, they begin to experience themselves moving from a reactive to a receptive state.  Not only does this help them in the immediate moment where they feel challenged, but this simple training can facilitate long term positive brain development.
Integrating the left and right sides of the brain is the ideal state of mind. The right side of the brain controls senses, emotions, nonverbal communications, and gives the whole picture context. Studies demonstrate connecting with the right side of the brain where emotions are generated is critical to effectively redirecting behavior.   Once the emotions are addressed, then conversation can proceed to utilizing the left side of the brain. The left side of the brain is the logical, linear, literal, and linguistic driver. Solutions can be offered and boundaries reinstated.
One of the mindful techniques brought to the classroom was a simple hand gesture. For example: holding a hand up, then folding the thumb into the palm, followed by letting the four fingers move rapidly, the child takes a breath and then slowly folds the four fingers over the thumb in a closed fist position.  As the breath is being exhaled and the fingers are moving slowly over the thumb, "pull it together" is repeated silently.  "Pull it together" is a verbal cue for integrating both sides of the brain. As a recent example: a primary class (ages 3-6) taught this technique to the students during a whole group circle.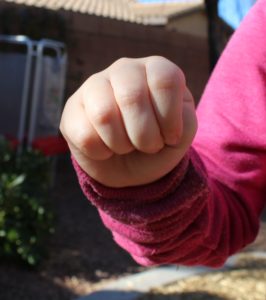 During lunch that same day, a kindergartener looked at a younger peer who was having difficulty controlling their body while eating and simply held up her hand, folded her fingers over her thumb, and the other child redirected their behavior. This action was unprompted by a teacher and demonstrates the power of mindfulness.
https://foothillsmontessori.com/wp-content/uploads/2018/01/hand3.jpg
3756
6679
Lindsey Hart
https://foothillsmontessori.com/wp-content/uploads/2016/07/foothills-logo-300x87.png
Lindsey Hart
2018-01-25 10:48:15
2018-07-12 08:46:06
Training the Mind