Observation is a foundational skill for an effective Montessori teacher.  The ability to watch, listen and not interfere with a student's learning process is essential for creating a Montessori experience.  From the very beginning, Dr. Montessori (a trained physician) took the approach that teaching was not about filling a student up with facts and figures. The goal was to create an environment that was interesting and engaging while teachers introduced subject matter from the most concrete perspective, and then by extension to the abstract.
As the teacher creates and delivers specific lessons to a student, it becomes clear what parts of the lesson make sense to the student and is absorbed by them. It can be equally obvious which parts of the lesson did not resonate with the child.  The skill to watch the reactions of a student and determine where the breakdown in understanding occurs is the hallmark of a Montessori educational experience.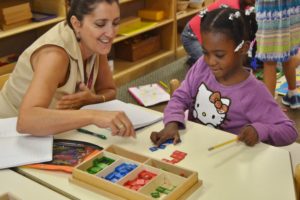 Watching with clarity and purpose is a refined skill for a Montessori teacher.  In this day of instant answers and very quick adjustments to the constant flow of information, it is tempting to step in too quickly with a student and give them the "right way of doing the lesson."  Instead, a more measured and patient approach can actually net better results.  The more a student internalizes the lessons and experiences the process of manipulating the materials, or practicing more abstract skills, the greater the impact of the lesson.
Observing a student over time is also extremely helpful.  Since most of the students stay in a classroom for three-year cycles, it gives the teachers a wealth of history to draw upon and to apply useful comparisons to earlier observations.  Teachers' abilities to quietly focus their listening and visual skills are the key to delivering an effective Montessori educational experience to their students.
https://foothillsmontessori.com/wp-content/uploads/2017/10/The-Power-of-Observation-1.jpg
441
666
Lindsey Hart
https://foothillsmontessori.com/wp-content/uploads/2016/07/foothills-logo-300x87.png
Lindsey Hart
2017-10-05 10:02:44
2018-07-12 08:46:06
The Power of Observation