The FMS teaching staff began the new year with a training in mindfulness.  It was given by Tessa Stephenson, MS MFT, and Regional Director for the Endeavor network.  Mindfulness is an old idea getting new traction in our fast paced world.   As per Ms. Stephenson, mindfulness is a perspective that cultivates "an attitude of openness and curiosity no matter the circumstances, including situations that are unwanted or unpleasant." Mindfulness offers tools for regulating emotions in order for a person to stay present and focused in the moment they are in, instead of reacting automatically to their own emotional states.
Simply taking a deep breath can calm the mind long enough to integrate the right and left sides of the brain so a person can think clearer about the situation at hand. Many studies have shown that teaching young children mindfulness techniques gives them life skills for coping with frustrations and disappointments.  The studies have also shown that as young children are taught mindfulness techniques, they begin to experience themselves moving from a reactive to a receptive state.  Not only does this help them in the immediate moment where they feel challenged, but this simple training can facilitate long term positive brain development.
Integrating the left and right sides of the brain is the ideal state of mind. The right side of the brain controls senses, emotions, nonverbal communications, and gives the whole picture context. Studies demonstrate connecting with the right side of the brain where emotions are generated is critical to effectively redirecting behavior.   Once the emotions are addressed, then conversation can proceed to utilizing the left side of the brain. The left side of the brain is the logical, linear, literal, and linguistic driver. Solutions can be offered and boundaries reinstated.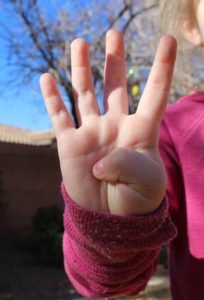 One of the mindful techniques brought to the classroom was a simple hand gesture. For example: holding a hand up, then folding the thumb into the palm, followed by letting the four fingers move rapidly, the child takes a breath and then slowly folds the four fingers over the thumb in a closed fist position.  As the breath is being exhaled and the fingers are moving slowly over the thumb, "pull it together" is repeated silently.  "Pull it together" is a verbal cue for integrating both sides of the brain. As a recent example: a primary class (ages 3-6) taught this technique to the students during a whole group circle.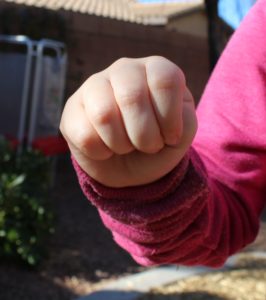 During lunch that same day, a kindergartener looked at a younger peer who was having difficulty controlling their body while eating and simply held up her hand, folded her fingers over her thumb, and the other child redirected their behavior. This action was unprompted by a teacher and demonstrates the power of mindfulness.
https://foothillsmontessori.com/wp-content/uploads/2018/01/hand3.jpg
3756
6679
nruiz
https://foothillsmontessori.com/wp-content/uploads/2016/07/foothills-logo-300x87.png
nruiz
2018-01-25 10:48:15
2018-07-12 08:46:06
Training the Mind